Help us create beautiful things
We make exceptional products for everyday life
Our products are part of everyday life for millions of people around the world. From a first-time mother buying a used stroller with Swish to a designer digitizing hundreds of Post-it® Notes in a split second. We try to solve real needs for the benefit of everyone.
Being part of people's life is a privilege. And a responsibility. In our home market of Sweden, close to 100% of the adult population use one or several of the apps we create with our brand partners. We are part of the fabric of society and how we shoulder that responsibility matters.
Prefer listening instead of reading? Check out our podcast episode about what it's like to work at Bontouch.
We are a diverse team of two hundred designers, engineers and entrepreneurs spread across our five studios in Sweden, London and New York
Be a part of our team
Inspire, and be inspired

One of the best things in life is to spend time with other talented people who make you want to do your best work. Better yet, to make them feel that way about you.

Let you be you

As important as it is to pull in the same direction, it must never come at the expense of failing to recognize that we all have different needs. The first step toward building products for everyone is to make room for everyone.

Share your interests

Passion is a beautiful thing, and many of us like to share it. Some of us love nature, others can't stand it. Some are DJs, others love knitting. Chances are you will make a lot of new likeminded friends. Especially if you are into Yatzy.

Pick our brains

Knowledge sharing is perhaps a more tasteful phrase to sum up our Friday demos, code camps and breakfast lectures. We do everything from concept to production to maintenance—the opportunities to learn from others are plentiful. No brains are harmed in the process.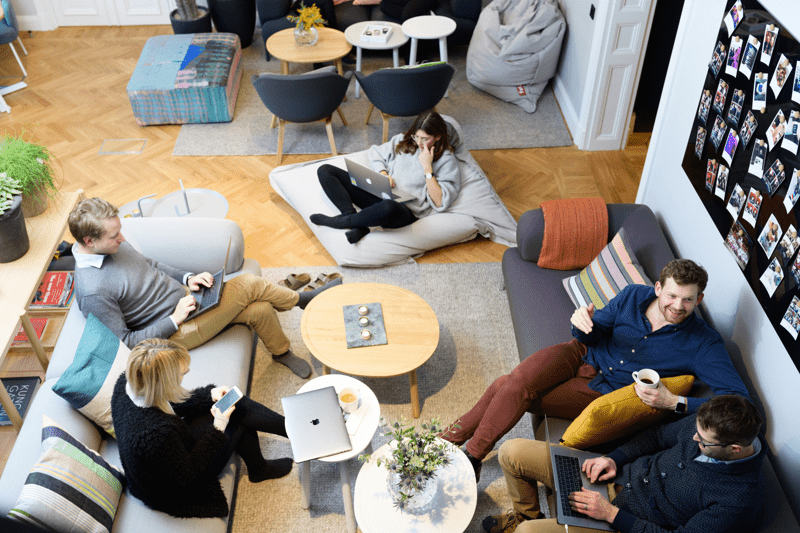 Seasoned professionals, look no further
Need a new challenge, or are you simply tired of arbitrary deadlines and quantity over quality? If you already do great work but wish your workplace was a little bit more agile and trusting, we think you'll be happy here. And if you miss the days when you still learned a lot from your co-workers, we know you will.

Everyone here really wants to perform at their best, and our colleagues make sure that you're always seen, heard, and appreciated.

Frida

Cloud/iOS

It's like every team is working as its own little start-up, where we have experts in UX, UI, Development and QA working together to create the best products possible together with our partners.

David

iOS
You'll meet all kinds of people here.
We are dedicated to creating an environment where outstanding products can grow, and where outstanding people want to work. The first step toward building products for everyone is to make room for everyone. You'll probably find a lot of likeminded friends here and the opportunities to learn from others are plentiful.
Students, start your engines
Soon to step out of that classroom and smell the fresh-cut grass? Well, we are excited to meet you.
Take a look and see what fits your passion
Don't see the right job for you listed above? Feel free to drop us a line and say hello at jobs@bontouch.com

About Bontouch
We serve clients in North America, Europe and Asia from five studios in Sweden, London and New York. The products we help create are used by more than 50 million people in 196 countries. Read about our products at bontouch.com
Already working at Bontouch?
Let's recruit together and find your next colleague.